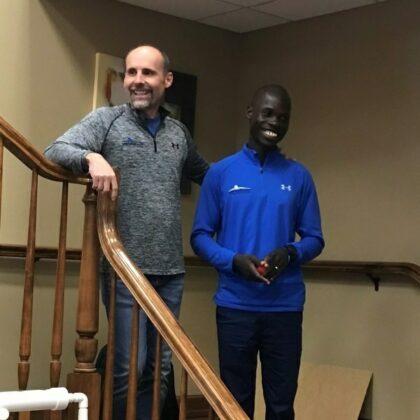 Sparking the Cause
Swanson's daughter traveled to Uganda with the organization As One Ministries to serve an NGO called Tendo Ministries. She returned with a deep passion for the organization and the people of Uganda and ended up convincing her dad to return with her for a second trip.
There, he met Henry Ngolobe, Tendo's director.
"Henry was getting to know Corporate Care and what we do. He's a visionary, he's super strategic. If he was in America, he would be a CEO—he'd be Eric—but God has strategically mobilized him there," said Swanson.
When he returned, he shared his experience with Bob, who quickly took an interest in the cause.
"That was a segue into how God just blew the doors off of a lot of things," said Swanson.
Bob was invested right away, and the team wasn't far behind. Hearing Swanson's stories of the community in Uganda and the children served by Tendo Ministries mobilized the company to come together to meet some of the organization's financial needs.
In the spring of 2019, Ngolobe had the opportunity to travel to Sioux Falls and meet with Swanson and Bob to explain the vision he had for his school. The first step was to purchase land—a $600 investment that became our first donation to Tendo. A year later, when the time came to build the school, our team raised the necessary $4,000.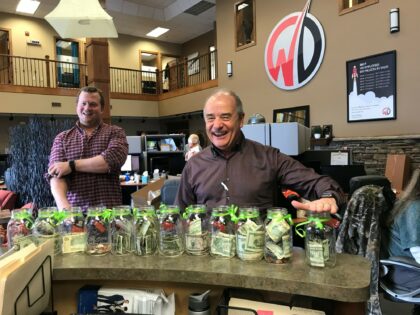 Although those dollar amounts may seem small to us in the United States, for so many children in this region of Uganda, school is a luxury. In the rural area where the Lucia school is now located, there are no government schooling options, and according to Swanson, only three out of ten children are able to attend beyond the seventh grade. Additionally, for many students, the lunchtime meal they receive at school is often the best, and sometimes the only, meal they'll have in a day.

"It's a huge deal to have this school," said Bob. "They want their kids to be educated, and they see the value in it."
Swanson adds that part of Ngolobe's vision is to develop additional income-generating projects to help the school and the community become more self-sustaining. These include planting a garden and raising pigs on the school grounds. Employees at Weisser have been able to donate toward these projects as well.
"The amount of funds that were raised and the impact it has on a place like Uganda, it's really opened up opportunities with the vision that Henry has," Swanson said. "And through that, there are more opportunities for employees to be involved. I get asked about it quite frequently as I'm talking to people here. There's a beneficial ripple effect, even just for Weisser in the workplace."
Bob and a group of Weisser employees had plans to visit Tendo in 2020 that unfortunately had to be postponed because of the COVID-19 pandemic. However, in January 2021, Bob was able to travel to Uganda with Swanson to visit the Lucia school.
"When we were over there in January, we got to see the school," said Bob. "Right now, they're starting with the young ages, and now that there's a brick and mortar building, they get 55 kids coming from about a half hour's walk away."
Seeing the school, the level of poverty and the simplicity of the children's lives had a powerful effect on Bob, and he brought those stories back to our team.
"He cares so genuinely about people and wants the best for everyone. That's part of his drive here. Especially after being there, he's all in and wants to be involved with anything we can do going forward," said Lindsey Brashear, Weisser's director of human resources.
"To know a company cares enough that they're going to be involved in a school in Uganda that doesn't offer them any tangible profit, it does say something about the heart of a company that an employee gets to experience that," Swanson added.